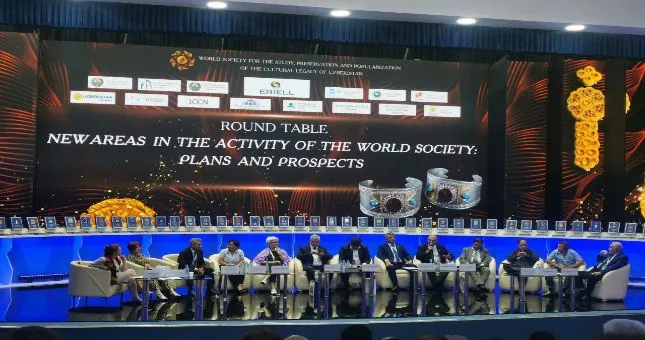 The 6th International Congress of the World Society Cultural Legacy of Uzbekistan - the Foundation of a New Renaissance was finished in Samarkand. The key event of the large-scale congress was the presentation of 10 new volumes of book-albums from the Cultural Legacy of Uzbekistan in World Collections series (volumes 51-60). Today, the collection of illustrated books, worked on by over 350 scholars from more than 25 countries, 100 libraries and museums with a worldwide reputation, has already reached 60 volumes. This year Tajik scholar Shodimuhammad Sufizoda, Doctor of Philology, Director of the Library of the Academy of Sciences of Tajikistan, will start working on the next volume from this large series of books. He will study ancient manuscripts stored in Tajik collections, which he has told about in more detail in his comments for Dialog.TJ .
"I am very glad that in recent years, thanks to the wise policy of our two presidents, a unique opportunity has been formed to cooperate in all spheres of life between Uzbekistan and Tajikistan. For us, scholars, this is a very good thing. We used to be separated, we didn't have the opportunity to communicate, to cooperate. Tajiks, on the one hand, Uzbeks on the other – we need each other because we have a lot in common. We have a common cultural and written heritage. All this needs to be explored, revived, we need to restore the forgotten pages of history.
And thanks to this project, in which we are also taking part today, called The Revival of the Cultural Legacy of Uzbekistan - the Foundation of a New Renaissance, we see how important these cultural objects are, how they unite different peoples and countries. We know that culture has no borders, just like physics remains science, culture remains culture everywhere. It has its own universal principles.
I was offered to become the author of one of the volumes from this series. My volume will be dedicated to handwritten legacy in Uzbek, which is kept in the collections of Tajikistan. This part of our collection - handwritten books in Uzbek, unfortunately, has not been studied so far, because we do not have specialists, text experts, who know the Uzbek language. Therefore, this material has remained unexplored until now. According to the latest data, more than 1,500 manuscripts in Uzbek and Old Uzbek are stored in the center of manuscript heritage at the National Library of Tajikistan alone.
I will work on this topic. I am currently collecting, classifying and sorting out material. Therefore, conceptually, I cannot say anything specifically yet, but I hope that as a result of studying this huge unexplored collection, we will come to some fruitful, useful results, because, as you know, in the 18th and 19th centuries, a lot of representatives of our literature wrote in two languages. When I first looked through these volumes, I found a lot of ghazals by Hafiz and Saadi recorded on the margins of Uzbek poets' diwans. Specifying literary taste and some mutual connections, these things give us a lot of information for research, and I hope I will finish this work and it will be very interesting."
It should be remembered that more than 100 reports by famous orientalists from more than 35 countries dedicated to the cultural legacy of Uzbekistan and Central Asian countries were presented in various sections of the event in Samarkand from July 22 to 24, 2022.
More than 250 world-renowned orientalists took part in the congress. Among them were 33 directors of famous international museums, 15 directors of national museums, 6 representatives of international organizations, more than 15 academicians, more than 20 professors and more than 20 doctors of sciences. The delegation of Tajikistan included representatives of the National Academy of Sciences, the management of the National Library of Tajikistan and the National Museum of Tajikistan. All of them successfully delivered their reports.