This illustration was made for the manuscript "Zafar-nama". It depicts the siege of Smyrna by Timur's troops in 1402. The knights of St. John in the fortress desperately resisted and Timur's victory was not easy. Behzad turned the siege scene into a vivid action packed with many realistic details. Timur on horseback is depicted on the right sheet at the bottom of the composition, listening to a report on the progress of the operation. In the upper right part of the composition, special workers are digging an underground tunnel, carrying out excess soil in large baskets. The sheikh prays for Timur's victory on a felt spread on the ground. On the left leaf is the climax of the scene.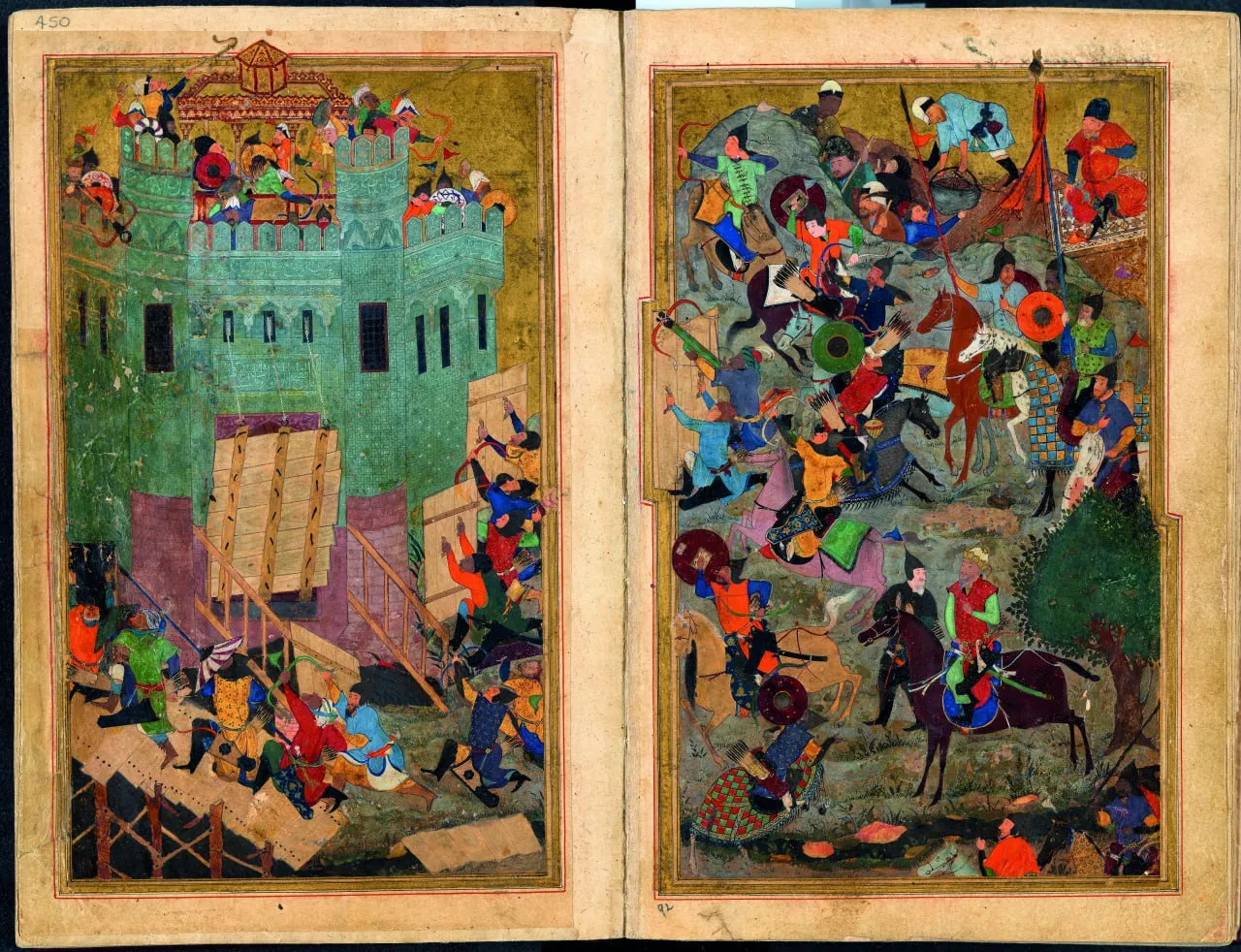 The defenders of the fortress behind the fortress parapet fiercely shoot bows and crossbows at the besiegers who approached the very gates of the tower and covered themselves from the hail of arrows with large stationary shields – chapars. The besieged managed to remove the drawbridge, and Timur's soldiers had to build a nearby wooden flooring across the moat to break into the fortress from the other side along which a group of soldiers had already rushed with triumphant shouts. Like the previous illustrations in this cycle, this diptych is magnificent in composition and color. Therefore, this example of creativity is considered the most dynamic battle scene created for the manuscript "Zafar-nama" in Bekhzad's work.‌‌

You can learn more about the topic in the book-album "The legacy of Kamal ud-din Behzad in the World Collections" (L volume) in the series "Cultural Legacy of Uzbekistan in the World Collections".

The main sponsor of the project is the oilfield services company Eriell-Group.